Tweet
Lists are pure mana to us bloggers, with our semi-autistic brains. Anytime I see a bunch of other bloggers shiteing on about their precious top fives I need to get proper involved. To mark the day that's in it lots of bloggers are sticking up lists of their favourite spooky tunes. I got thinking that while this is good craic none of the music posted is actually that scary. If its not hokey Hallowe'en cheese of the sort ye'd jerk around to in your 'sexy' pirate costume with the usual cast of rubbered planks from the workplace, then its metal which as a rule is about as scary as a fourteen year old acne-goth outside central bank. I wondered what sort of music really scares me? What song, if it caught me at a vulnerable moment could make me widdle all over myself and sob? Not an easy task. But here are a few ideas I painfully extracted from my ipod to follow up on the original grand intention. Any other song suggestions would be appreciated...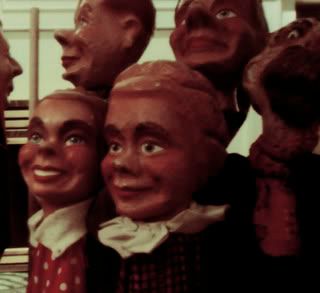 Oh, and the scary puppets have dropped in to asleep on the compost heap to set the Hallowe'en mood. Puppets really fuckin bother me. Not the cuddly sort, but the old clattery wooden sorts. Like these boys. They'd be the kind that might separate from their strings later tonight to rattle through streets that smell of bangers and dead bonfires, carrying tiny bags filled with children's souls and tears. Now, the songs that personally petrify me, in no particular order... MP3: The Incredible String Band-
Witch's Hat
The wicker man scares the fuck out of me. But I can always console myself that it was only a film. The incredible string band on the other hand are real. I don't care what anyone says, but I bet they've oft dressed up as deer, engaged themselves in moonlit orgies and ritually burnt people on remote headlands at sunset. Remember
The Riddlers?
Fuckin' terrifying no? I wonder if they were invented by the incredible string band? MP3: Autechre-
Autriche
A lot of the warp label headphones electronica whisks me to weird and spooky places, but this bad trip takes the biscuit. Its a chilly nocturnal electro-breeze that whistles through your ears replete with voices garbling in the decaying gloom. Its what broken androids hear in their heads as they rock themselves to sleep in the robo loony bin.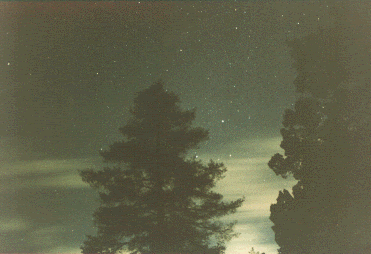 MP3: Angelo Badalementi-
Twin Peaks Theme
Twin Peaks season 1 was the heebiest and jeebiest thing to come on mainstream TV. And it wasn't the midget who talked backwards that unsettled me the most. It was this one recurring tiny shot of fir trees that basically just rustled around a bit to a discordant wind noise. Just a few fuckin leaves rustling. I mean what sort of a genius is David Lynch to get so deeply under my skin with a few fuckin pine leaves and a breeze? Even thinking about it now weirds me out. The opening soundtrack is for my money the best TV theme recorded. It takes you to a very freaky place indeed. And finally...something so downright terrifying, so teeth-grittingly horrific I can't even name it. Link to it if you
dare