Tweet
NUMBER 1: Devendra Banhart: A lad I once hung out with used to get very angry when he was drunk and come out with the most mad unfettered comments towards the subjects of his clownish rage. One was a girl he knew during the leaving cert who 'changed' after getting into art college. She quickly lost her country accent, started wearing petticoats, cycled around on an old-fashioned racer with a basket of organic fruit on the front, and pretended to like Belgian neo-realist cinema, that sort of thing. So one night this mate of mine was in her vicinity and lubricated on blue wkd, went all purple in the face, lost his rag and screamed at her "I wish your head was a fuckin' rugby ball so I could take a run at it and drop kick it into the middle of next week." Yikes. It sure wasn't Shakespeare, but its a line that comes to mind every time I hear Devendra Banhart, who, to me is the musical equivalent of
this.
I really don't think weirdness comes naturally to Devendra, such is the whiff of willful contrivance off everything he does. I bet he eats bamboo shoots or something for breakfast because weetabix isn't weird enough. I've read interviews with him, and in each, he has come across as arch, insufferable, phony and pretentious. So does most of his music. So the hairy headwrecker gets the boot and replaced by a genuine beardy weirdo... MP3: Robert Wyatt-
Heaps of Sheep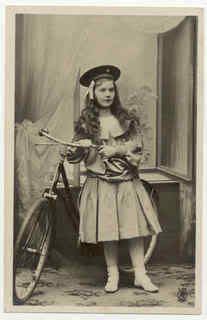 The Dun Laoghaire College of Art and Design Autumn/Winter '07 look. Number 2: Led Zeppelin: In the universal gaeltacht experiences of our Irish youth many of us shared a room with a fret-fiddling cab driver's son from Templeogue. A guy, who despite obviously being a ferocious cretin, managed to score girls because of workmanlike guitar skills that made him a temporary demigod in the hormonal hothouse of Gweedore in summer. For those tender acoustic moments by the campfire he'd pour his soul through fingers that strummed the deepest, most meaningful ballad known to man "time of your life" by Greenday, and for that end of Gaeltacht electric rock out, it could only ever be the 'Zep, a noodly over-serious travesty of a band designed with adolescents in mind. Wow, but I can't abide them. For me, Led Zeppelin will always be embodied by a taxi-driver's son from templeogue in a Nirvana t shirt. And as for being all mystic? If eating a bowl of koka curry noodles in front of an Irish psychics live advert is mystic, well then yeah, Led Zepplin are mystic. Here's proper scary mystical guitar stuff by Japanese people who take lots of drugs... MP3: Acid Mothers Temple-
Dark stars in the dazzling sky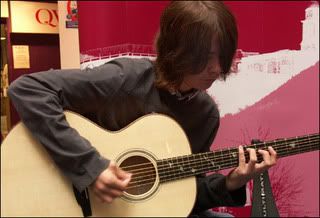 Féach ar Lorcan! Ta sé go h-íontach ar an guitar. numbers 3 and 4 will follow in the future...